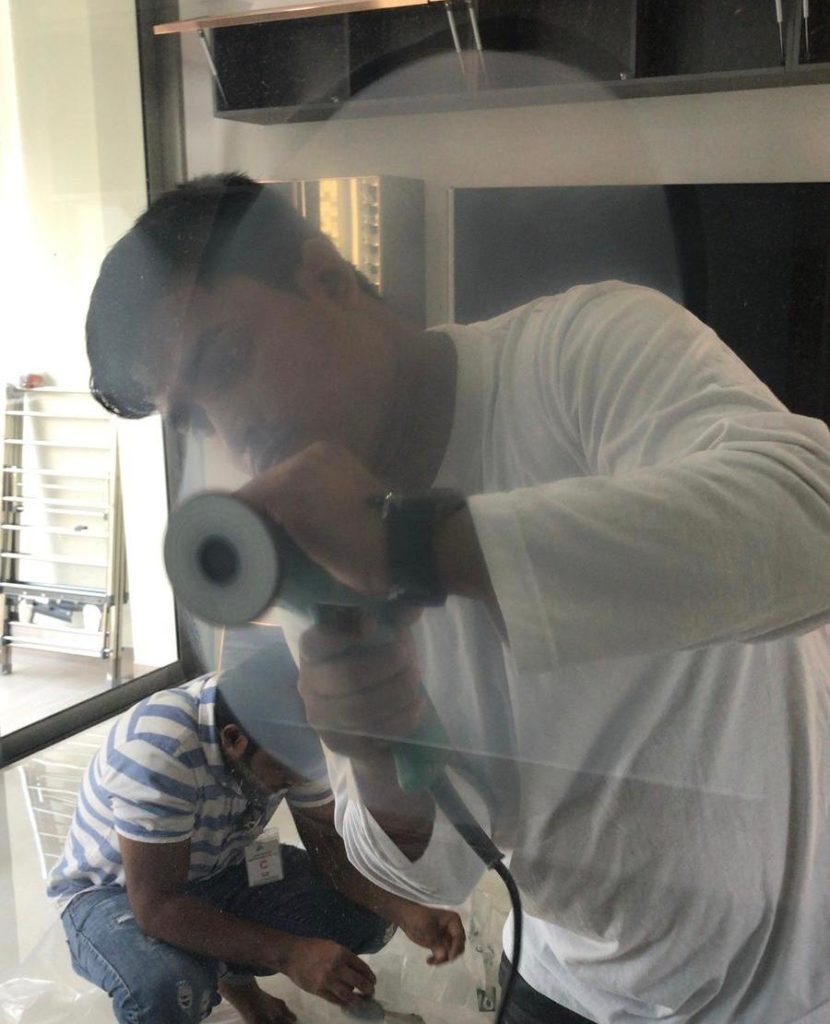 Despite the fragility of glass, it is still used on appliances and components across the home. Some of the most common items with glass parts include furniture, showers, balconies and aquariums. Although glass is often used on just selected parts of these components, even slight hitches on the glass could have great impacts on the functionality of the items. There are various issues that can be experienced with glass including small scratches, cracks, chipping and staining among others.
While the defects may sometimes seem so tiny, it is always advisable to have them fixed by a glass technician as soon as possible. Neglecting them could only give way to much bigger issues that might even result into glass replacement. To avoid all these risks, simply talk to us for professional glass repair. Whether your glass is developing slight scratches, cracks, chips or stains, our specialists can provide custom glass repair services to effectively and safely revive their former glory.
We offer comprehensive glass repair services with a guarantee of unmatched reliability and, the most competitive rates in the industry.
Our Glass Repair Services
The windows and doors in your home are the gateways through which others view the environment and your personality. This means it is important that they remain in top notch state throughout. But, maintaining the appeal of glass windows and doors is not usually a walkover. In fact, even fixing slight scratches on glass windows and doors can give you headaches. Instead of going through all the humiliation, simply talk to us for glass window and door scratch removal. We specialize in custom glass scratch removal for different types of window and door glasses. Using safe and effective scratch removal techniques and equipment, we always guarantee outstanding results in every project. Our specialists will properly revive the appeal and functionality of your window and door glass.
Balconies fitted with glass enclosures and panels are always spectacular, giving your home a unique exquisite and relaxed feel. But, their beauty and functionality can be easily reduced to ashes if small blemishes are left to thrive on the glass panels for a long time. In fact, even light scratches, chips, cracks and stains can quickly damage the glass if not fixed immediately. At Glass Repair Singapore, we are the glass specialists that you should engage for professional balcony glass panel scratch removal. Whether your balcony has flat, curved or irregular shaped glass panels, we can provide the best scratch removal procedures to bring back their shine and, also enhance their lifespan. This could easily save you from the huge costs of replacing balcony glass panels.
Although there is usually very little activity in the shower, scratches and stains are a common occurrence in many glass shower enclosures. Due to the less time spent in the shower, noticing the defect is not easy. In the event that you notice slight scratches or stains starting to form on the glass shower, get in touch with us for glass shower enclosure scratch and hard water stain removal. We use the most efficient glass scratch and stain elimination products and techniques to effectively turn around the appeal of your glass shower enclosures. Through our service, you will also be able to enhance convenience in the shower and maintain high standards of hygiene in your home.
Slight scratches on aquarium glass not only block the view of its contents but, can also pose safety hazards. If not fixed properly as soon as they are detected, scratches on aquarium glass can easily develop into cracks, forcing you to replace the entire piece. But, why take the risks when we can deliver the best solution at your convenience? We are the glass experts that you should talk to for aquarium glass scratch removal. We have many years' experience in scratch removal for all types and designs of aquarium glass. Thus, there is always a guarantee of the ultimate solutions to all your aquarium glass repair needs. Whether the defects are on just select parts or the entire glass aquarium, we can always deliver custom scratch removal services to save you the burden of buying a new one.
Glass cracks and chips can be caused by various elements including, scratching, placing heavy weights on glass components, falls among others. Although the cracks and chips may not be deep or big, they are serious glass defects that should never be overlooked. However, this does not mean you should immediately replace glass components with cracks and chips. Through our crack glass and chip glass repair service, you can now easily revive all your glass components to their former glory. We integrate our unique skills with the latest crack and chip glass repair technologies to deliver outstanding services that surpass customer expectations. Instead of rushing to replace the glass, let our specialists look at it first. Depending on the extent of the cracks and chips, affected parts and your needs, we can administer custom repairs to make the glass useful once again.
Get a Free Quote for Professional Glass Repair Services in Singapore
The first step to obtaining our professional glass repair services is with a no obligation quotation. We provide free consultations to enable our clients make informed decisions when hiring glass repair services. Our specialists are always ready to assist you with choosing the most suitable glass repair options that will meet your needs.
We are committed to making sure that all home and commercial property owners across Singapore are able to get quality, reliable and affordable glass repair services. Besides the glass repair services discussed above, we will continue to develop our portfolio to cover more areas. Currently, we have the most competitive rates in the industry to enable you save more on glass repair.
Even if you are not ready to do glass repair now, we can still prepare a free quotation to help you with planning for the project. Talk to us today for the best glass repair services in Singapore.