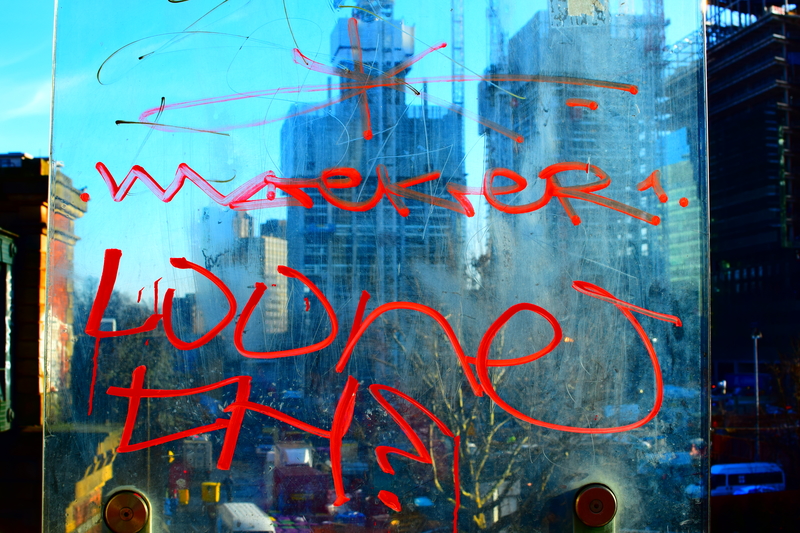 Although graffiti is a popular street art and marketing tool for some countries, it does not usually remain relevant for a long period of time. In Singapore, the use of graffiti is not allowed. Graffiti arguably lowers the value of property and defaces buildings. Some people also claim certain graffiti attract criminal elements, which could potentially scare away customers from visiting their stores.
Generally, graffiti is often created using spray paints. However, some are not done using the ordinary paints that can make them very hard to erase. On the other hand, the surfaces where the graffiti is done, especially delicate materials like glass could also impact challenges in removal. The best way to effectively and quickly remove graffiti from your store front glass window is through our professional graffiti removal services.
At Glass Repair Singapore, we are the specialists in commercial glass repair services that you can trust to give your store front glass window the ideal facial revival from the scourge of graffiti. Our technicians have many years' experience and the right equipment to safely and efficiently rid your glass window of unwanted graffiti. We focus on custom store front window graffiti removal services that guarantee the ultimate customer satisfaction.
Professional Graffiti Removal Services
Despite the scourge that most people consider graffiti to be, it still remains one of the most popular forms of street art in some countries. Even if you do not do it or hire people to paint graffiti on your store, it is not a surprise to wake up one day and find a large graffiti on your store front window. Owing to the delicate nature of glass, you might start thinking of replacing part of or even the entire store front glass window.
Going by the current glass market estimates, replacing a store front glass window could cost you quite a fortune. Instead of shouldering all these unnecessary financial burdens, simply talk to us. With our store front window graffiti removal services, you can easily revive the look and appeal of the glass in no time. We remove graffiti from all types of glass including curved, flat among others.
Regardless of the size of your store front glass window, we have technicians to deliver the best workmanship at your convenience. We integrate unique expertise and experience with modern glass repair technologies to ensure highly efficient, safe and effective graffiti removal from all glass surfaces. To us, graffiti removal is not only about eliminating the artwork. Instead, we also make sure that the shine of your glass window is restored.
In order to deliver tailor made graffiti removal solutions, we always conduct proper preliminary inspections before every project. Our technicians will first conduct an inspection on the glass window to ascertain the level of impact and, determine the most effective removal techniques. If the problem is not too serious, you can also simply send us an image or photo of the store front glass window with the graffiti that requires removal.
In the spirit of customer satisfaction, we always engage all our clients in the progress of their projects from start to finish. Our consultants will discuss with you about the recommendations for your graffiti removal project. We apply different graffiti removal techniques and products. Thus, our consultants will discuss the most suitable options for your store front window. '
When discussing your options, we will also take into account your budget. This is important in making sure that you get an accurate quotation tailored to your unique expectations. We understand that sometimes, you may have your own demands regarding the techniques and products that we use on your store front glass window. Even in such circumstances, we will still ensure you get the best results.
At Glass Repair Singapore, we also emphasize on highly reliable graffiti removal services. Our company is always quick in response, making sure that you are never kept waiting. We have our own in-house technicians, equipment and fleet to deliver professional store front window graffiti removal services in Singapore at the convenience of every client. You can schedule the graffiti removal works during business hours or off-duty.
Get a Free Quote for Store Front Window Graffiti Removal
Now that you know the graffiti removal experts, talk to us for a no obligation store front window graffiti removal quotation.