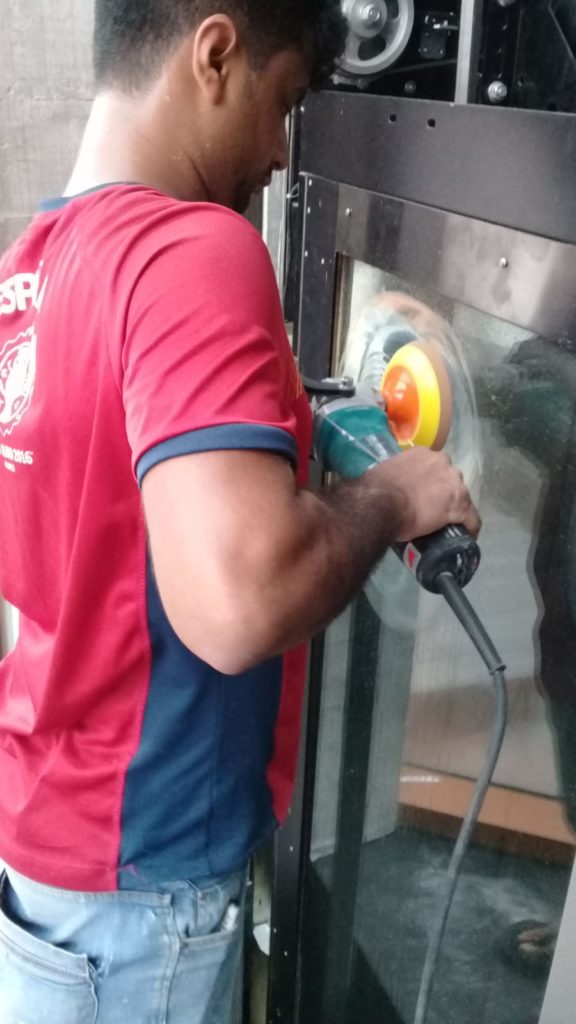 Windows play various roles in buildings. Besides offering you an opening to view the internal and external environment of the home, they are also great for ventilation. Windows also protect you from the harsh weather and environmental elements. On the other hand, windows also enhance the beauty and overall integrity of the home. This means there are many things that can go wrong in the event that the windows are damaged. In fact, even slight defects on the windows can have devastating effects your home and its occupants.
Unlike those made from other sturdy materials, glass windows are usually very delicate. Depending on the environment, how the windows are used and other factors, they can sustain a series of defects. Some of the most common forms of damage experienced on windows include scratches, cracks, chips, stains and hazing. While each of these elements has unique impacts, all can easily inhibit the performance and overall appearance of your windows if not properly fixed as soon as they are discovered.
Slight scratches, stains and hazing can change the looks and texture of your windows in a very short time. Apart from just making the windows untidy, leaving these blemishes on the windows for a long time can also result into quick wear and tear. Windows with cracks and chips are considered a safety risk that could result into accidents at home. If they are not solved on time, the cracks can quickly spread to other delicate window components, causing even more complications.
The Best Windows Repair Services in Singapore
Some homeowners usually argue windows repair is a home maintenance procedure that they only need when conducting renovations and improvements. However, waiting until the time of home improvements to repair your windows will only give room for the problems to develop, making it more challenging and costly to bring them to shape. Contacting our glass professionals to look at the windows immediately is the best way to keep the ones in your home safe from such risks.
True to our name, Glass Repair Singapore are the glass experts that you can always count on for professional windows repair services. Over the years, we have been able to help many homeowners get the ultimate solutions to common and complex windows problems. In our work, we strive to provide professional windows repair services tailored to the unique expectations of every client. We have the expertise and tools to see to it that your windows are given the best service that effectively revive their appearance, enhance performance and extend their lifespan.
Our windows repair service covers a wide range of aspects that cause damage to windows including, scratches, cracks, chips, stains, hazing among others. We focus on all-inclusive windows repair services so you no longer have to worry about hiring technicians whenever you are faced with a different problem. Our company has glass technicians that specialize on various windows repair procedures, which enables us to always meet all our client needs. We will select the most experienced technicians to handle the repair of your windows.
Although there are common issues experienced on most windows in homes across Singapore, we always give every project a unique treatment. We believe that every window is different and, that is why our specialists are very keen on working closely with clients to provide custom solutions. Besides, we also serve clients with greater commitment to reliability, always making sure that you are able to get the desired windows repair services at your convenience. Our specialists can be dispatched at your service whenever and wherever you wish.
By hiring us for windows repair services, you can freely go on with your normal activities knowing the job is in the right hands. Customer satisfaction is our top priority that you are guaranteed in every windows repair project that you hire us to work on. All our personnel are well trusted. Even if you leave our specialists to work in your home while away, there is no chance that anything will go wrong. In every job, we pay a close attention to all the industry regulations and safety measures so everything goes on according to plan.
Another reason to always choose us for windows repair services is because of our competitive rates. Glass Repair Singapore has the most pocket friendly rates that will enable you to easily get the best windows repair services at a fraction of what most people are paying for. Regardless of the particular defects on your windows or your budget, we guarantee affordable rates that could help you save even more on the overall repair costs. Our services will enable you to quickly revamp the state of your windows without any financial burden.
Get a Free Quote for Custom Windows Repair Services in Singapore
The first step to fixing damages on glass windows is obtaining a quotation. Simply make an appointment with our consultants to discuss the details of your project. While most people usually think that consultations can only be on one-on-one basis, you can still engage our consultants via calls, messaging, email or other convenient alternatives. The basis of the consultations is to enable our specialists and clients understand the particular problems with the windows and determine the most suitable repair solutions.
In order to ascertain the condition of the windows, our specialists will need to see them first. You can either send us photos of the windows in question or ask our specialists to visit the home for inspections. After the assessment of the windows, we will prepare a detailed quotation showing the repair works to be performed and related costs. When preparing the quote, we will also involve you to make sure that the details therein reflect your expectations. In case there are changes you would like to make to the quotation, our consultants can do so before the start of the job.
With us, you are always guaranteed professional, reliable and affordable windows repair services that will truly surpass your expectations. Get in touch with us today for a no obligation windows repair quote.