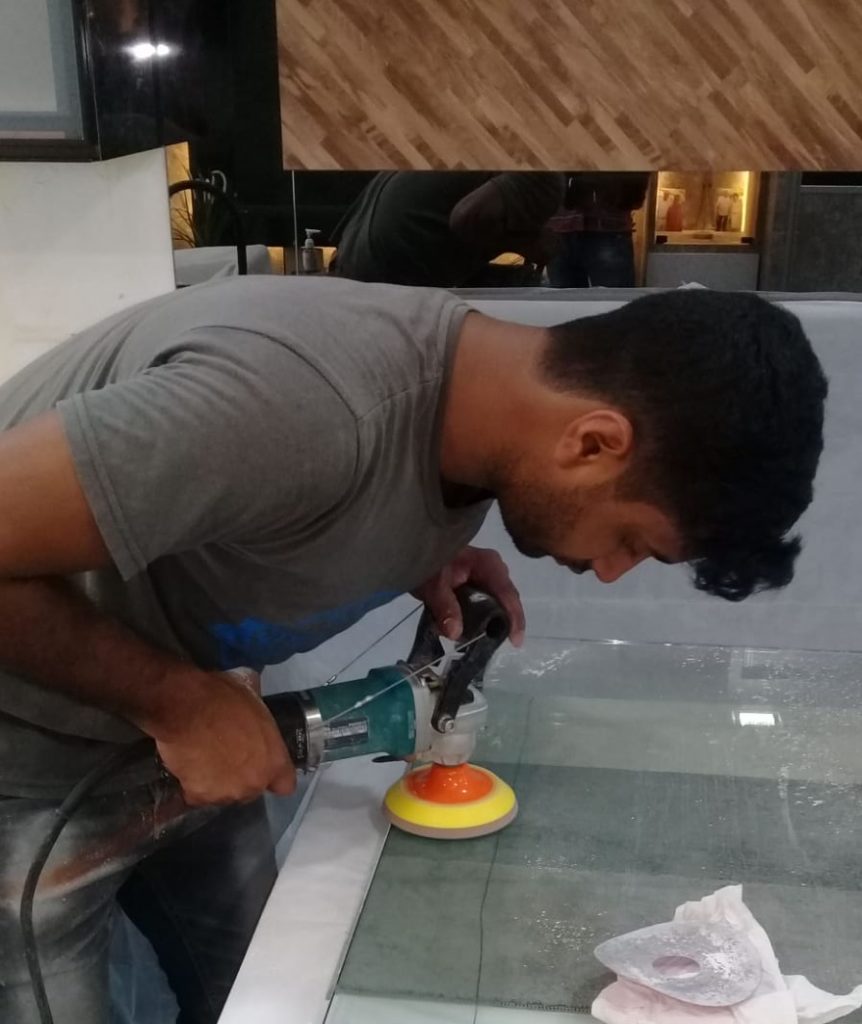 Unlike the common tables wholly made of wood, metal or plastic, tables with glass tops have a unique touch of elegance and class. Glass is a material with attributes of outstanding beauty, style and also various uses. As a result, items made with glass components are usually highly priced. In fact, buying even just a small coffee or dining table with a glass top can cost you a lot of money. But, that is not all; glass table tops are also very fragile.
Considering the relatively high costs of glass table tops and their fragility, they always demand great care and maintenance in order to remain useful. Although the particular areas where the furniture is placed and how it is used can impact quick wear and tear, there are common issues that you are likely to experience from time to time. To preserve the value of your glass table top, it is important that you know about these problems and how to fix them.
Even if the furniture is used responsibly, your glass table top could still experience minor surface flaws like scratches, chips and stains among others from time to time. These can be accidentally caused by the people using the tables, pets or other items in the spaces where the table is placed. Sometimes, the flaws are so small that you might even ignore them. But, that will only degenerate the glass table top further and even result into buying a new one.
Whenever you notice signs of slight scratches, chips or stubborn marks on your glass table top, the best thing to do is talk to Glass Repair Singapore for professional glass table top repair services. Seeking repair immediately the issues are noticed ensures that they are fixed early to avoid quick tear as well as the huge costs of buying a new glass table top. We can revive the beauty and functionality of your glass table top more effectively and efficiently.
Professional Glass Table Top Repair Services
According to some people, the only solution to scratches, chips and other minor flaws on glass table tops is replacement. While replacement is an option worth considering if your glass table top is defective, it should never be your first. Buying a new glass table top is never cheap and, could easily leave you with a huge financial burden. These slight issues can be effectively fixed with our professional glass table top repair services at a fraction of the cost.
At Glass Repair Singapore, we offer top notch quality glass table top repair services that you can always count on to bring back the fading glory of your glass table top. Our company has a team of experienced glass experts to always provide professional solutions to all your glass table top repair needs. We believe that scratches, chips and stains are minor issues that should never cost you as much as a new glass table top.
In our work, we operate on a flexible schedule that is customized to the unique demands of every client. But, there is always a procedure that we follow in service delivery. While projects usually vary from one to another, we usually recommend initial inspections before doing repairs. Even if the issues can be clearly seen on photos of the glass top table that you send to us, we normally require that our technicians conduct a physical examination.
If you have the time, you can bring the glass table top to us. However, you should only do so if you know how to safely handle and transport glass. If you are not sure, it is advisable to simply let our technicians visit your home to do the inspections. Depending on your schedule, we can either do the inspections on-site or transport the glass table top to our workshop. Our specialists understand the safe handling of glassware and also have all the right equipment to make sure no more damage occurs both during inspection, transport and repair.
After the inspections, our consultants will discuss with you the required repair approaches in detail. Since we use different techniques in glass table top repair, our consultants will clearly describe the most suitable ones for reviving your glass table top. The repair services to be performed will mainly depend on the particular flaws on your glass table top and your expectations. We will only recommend and deliver the best repairs for your case.
Sometimes, clients come to us with their minds already made up on how they want their glass table tops fixed. In such circumstances, we will still ensure you properly understand the implications of every procedure beforehand. With our expertise and experience in glass repair, we are confident in our ability to provide lasting glass table top repair solutions for all designs, styles and sizes of glass table tops in homes across Singapore.
To us, customer satisfaction is a top priority that we strive to achieve in every service. Apart from just the quality of our glass table top repair services, we are also committed to providing reliable and affordable solutions. Our company is always quick in response, making sure clients get the desired glass table top repair services at their convenience. By choosing us, you can always be sure of the best glass table top repair whenever and wherever you need.
The affordability of our services is another reason you should never look elsewhere for glass table top repair. We have the most competitive rates in the industry that will no doubt enable you get quality glass table top repair without spending more. In fact, it is only with us that you can easily get a custom glass table top repair quotation for your budget. Our goal is to improve accessibility to professional, reliable and affordable glass table top repair solutions.
Get a Free Quote for Glass Table Top Repair Services in Singapore
Contact us today for a no obligation glass table top repair services quotation. We guarantee accurate quotations and the ultimate glass table top repair solutions for unmatched customer satisfaction.