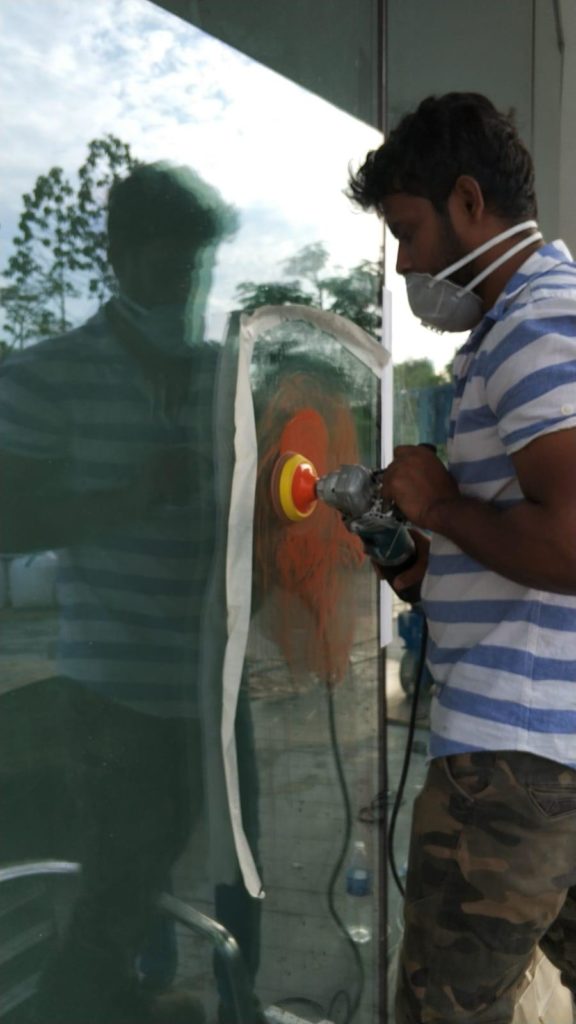 Glass windows and doors are common in most homes today. While there are many reasons for using glass on windows and doors, their elegance and classy appeal is one of the main attributes that give them a cut above most materials. Despite this, glass is usually very delicate and even slight scratches can easily ruin its appeal. Whenever your glass windows and doors are scratched, it is always advisable to seek professional glass scratch removal.
At Glass Repair Singapore, we specialize in custom glass window and door scratch removal services. We understand the fragility of glass and, have in place the most efficient and safe scratch removal techniques and tools to deliver outstanding results on your glass windows and doors. With our glass window and door scratch removal service, you will be able to improve the overall condition and integrity of the property.
Custom Glass Window and Door Scratch Removal Service
Generally, there are several elements that can cause scratching on glass doors and windows. The blemishes can be caused by humans, pets and even other items that come into contact with the glass. As a result, scratches are always unique in every glass window and door. Regardless of the causes, affected areas or extent of defect, these blemishes should be eliminated quickly and appropriately.
Since scratches occur differently on glass windows and doors, we always pursue unique scratch removal approaches in every project. After carefully inspecting the glass window or door, we will discuss with you the most effective and safer scratch removal remedies to perform. You can either send us a photo of the window or door, or have our specialists visit your home for preliminary inspections.
Depending on the condition of the scratched glass window and door and your expectations, we will deliver the best treatments to revive the texture and appearance of the glass panels. For very tiny scratches less than the size of a fingernail, we use proven home remedies that will effectively wipe off all the blemishes in a very short time. These are applied with special tools for glass scratch removal.
While using home remedies for glass scratch removal might seem like a simple DIY project to some, you should never attempt it of you do not have the skills and tools for the job. Even with a good glass scratch remover, it takes a glass expert to achieve the best results. Attempting the procedures on your own could only result into more damage, leaving you with huge glass window and door repair bills.
In case your glass window or door has clearly visible scratches bigger than the size discussed above, we can integrate other effective measures to revive your glass windows and doors. One such procedures is buffing with metal polish. Our specialists perform this procedure using the best quality metal polish that eliminates the scratches in just a short time without any unpleasant impacts.
Although we use different products for glass window and door scratch removal, all are tested and proven to be quite safe and efficient. All our glass scratch removal products meet industry standards, making sure that you only get the best results. However, clients can also sometimes choose the particular scratch removal products that they want used on their glass windows and doors.
In our work, we always strive to provide services that are tailored to the unique needs and expectations of every client. We have the most competitive rates in the industry that enables all our clients to get the best glass window and door scratch removal solutions without digging deeper into the pocket. Even then, our consultants can still suggest other cost cutting measures so you never spend more on glass window and door scratch removal.
Regardless of the amount of work involved in the project, our company has experienced technicians and efficient tools to deliver quality workmanship at your convenience. In fact, we usually complete projects well ahead of the given deadlines. Our specialists can even work on the windows and doors in your absence.
Get a Free Quote for Glass Window and Door Scratch Removal in Singapore
In every glass window and door scratch removal service that we offer, we normally issue a no obligation quotation so every client knows beforehand what to expect. Talk to us today for a free glass window and door scratch removal quotation.